How To Make Homemade Dog Popsicles ( Frozen, Recipe )
Reading Time:
4
minutes
This post may contain affiliate links. If you click and buy we may make a commission, at no additional charge to you.
Homemade Dog Popsicle Recipes and How To Make Them
Summer weather is hard on all of us. We can easily grab a popsicle from the freezer to cool ourselves down. Our pups do not have that option. They rely on us to provide for them. It is certainly no fun when you are cooling off with frozen flavored juice and your poor little pup is watching you intently, with those sad puppy eyes.
Well, I want to take you to an easy place, where you can make that little loveable ball of fur some nice, cold 'Popsicles'. Yes, even they deserve to have frozen popsicles. So run to the kitchen and grab the ingredients that you likely already have. For freezing, you can use an ice cube tray, silicone molded trays or even paper cups. There are treats that may be used as the 'stick' in the popsicle, making this completely edible for your pooch.

There really is nothing more refreshing than an ice-cold popsicle in the summer. We also make our own human popsicles, so that we know what is added. When you put that effort into your human portion of the family, you want to do the same for the canine part of the family. They deserve to have some cold treats too! They do a lot of running and playing around the yard with us.
The First Dog Popsicle Recipe
This first recipe is one we love because it is creamy and flavored with items that a dog loves! Peanut butter is like a dog's best friend, next to his human buddy. That along with being your protector and guardian should be the only meaning behind all the love you give back, but give him something special with these great tasting Pupsicles.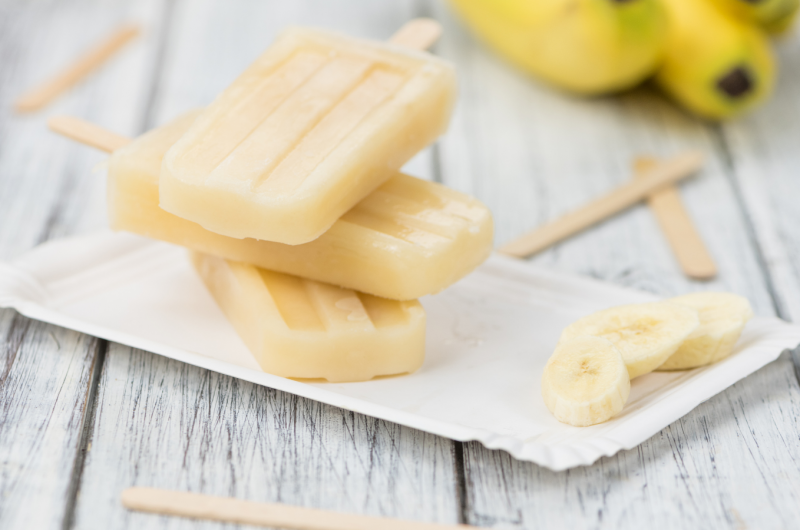 1- Yogurt Peanut Butter, Banana Popsicles
Yogurt Peanut Butter, Banana Popsicles
Course: All
Cuisine: Dog Treats
Difficulty: 2
Ingredients
16 ounces plain yogurt 

1 medium, ripe banana, peeled and sliced 

2 tbsp peanut butter 
Directions
Using a blender, place all the ingredients inside and blend until creamy. 

If using paper cups, pour in desired amount, about ½ cup into the cup

Break a straw type do dental treat in half, stick one end into the cup 

Freeze for 4+ hours 

Enjoy the look of love from your dog as you hold it for him to lick 
Enjoy!
There are many things to be said when you create homemade dog popsicles. When you make them yourself, you know the ingredients that have been put in. There are no preservatives, additives or artificial sweeteners. Which is great since we only want the best four our four-legged friends.
One bit of warning is, do not use the wooden sticks for popsicles or the popsicle molds with plastic sticks. The best thing to use as a 'stick' is something that is edible for the dog. There are many pre-made dental sticks for dogs. These will work easily. However, you could also stand a dog biscuit upright when halfway through the freezing process. Waiting until halfway through freezing will help to keep the 'stick' in an upright position.
When you make these healthy choices for your pup, he or she will not only appreciate these during the hot summer days, but you will also enjoy the fact that there are only healthy ingredients, which will help keep your dog happy and moving.
There are many varieties that can be made using this as a basic recipe. Speak with your vet to be sure it is a safe ingredient for the dog in your life. There are many fruits that dogs should not eat, such as grapes. However, watermelon and cantaloupe are good choices. Mixing plain yogurt in with the main ingredients will produce a thicker and creamier tasting popsicle.
The Second Dog Popsicle Recipe
2- Simple and Basic Pupsicle (Popsicle)
Recipe by SueCuisine
Difficulty: 2 our of 10
Prep time: 4 minutes
Freezer Time: 4+ hours
Ingredients
1 cup low sodium, fat free chicken broth

1 cup pumpkin puree 

1 tsp chopped parsley 
Directions
Be sure to use fat free, low sodium chicken broth or bone broth 

Put broth into a blender and add in the pumpkin puree 

Blend together until well combined 

Add the chopped parsley and blend one more time. 

Pour into separate muffin cups and place on a level surface in the freezer 

After two hours, place a dog biscuit or dental dog stick into the cup in an upright position 

Freeze for another two+ hours 

Enjoy your dog's smile as he eats it!
Enjoy!
Final Words
Well, we hope we helped in freeezing up your day. These frozen pup popsicles are great as a summer dog treat to make their day or even for a cold winter day! Just watch their adorable dog smiles on their faces, brighten up!
All the ice deliciousness aside, get yourself some cute ice cube trays to help in making dog popsicles.
Have a favorite dog popsicle recipe? Let us know about it.

I'm a content writer and researcher. But bottom line, I loveee animals. I had my first animal which was a guinea pig at age 8. Later had a bunny, dog and a lot, a lot of fish. Writing about what I know about pets will allow me to share my knowledge and love for them with everyone else. Dealing with dogs my entire life, I know a lot.
---
PetFriendly Monthly Pet Care Box
Get 50% off + FREE Shipping on your first box!