How To Make Homemade Dog Toothpaste ( Two Recipes )
Reading Time:
4
minutes
This post may contain affiliate links. If you click and buy we may make a commission, at no additional charge to you.
Homemade Dog Toothpaste Recipes
As we all know, dog breath can stink bad, yes bad. It chases us away runs after us until we're far! So after much research, we have come up with the best solutions for not only our dog but your homemade toothpaste recipes as well. This is not a difficult task as you would think. Your dog will actually like getting his teeth brushed once he's used to it.
Dental hygiene is just as important for your fur babies as it is for you.

Routine dental check-ups are important to prevent loss of teeth, periodontal disease, bad breath, and dental care for your dog. They can also prevent any organ damage done by plaque flaking off the teeth and getting into the bloodstream and traveling to organs.
If you feel like giving your dog dental treats, go ahead, however, please try and either make your own homemade dental treats for dogs or use one that comes recommended by your veterinarian.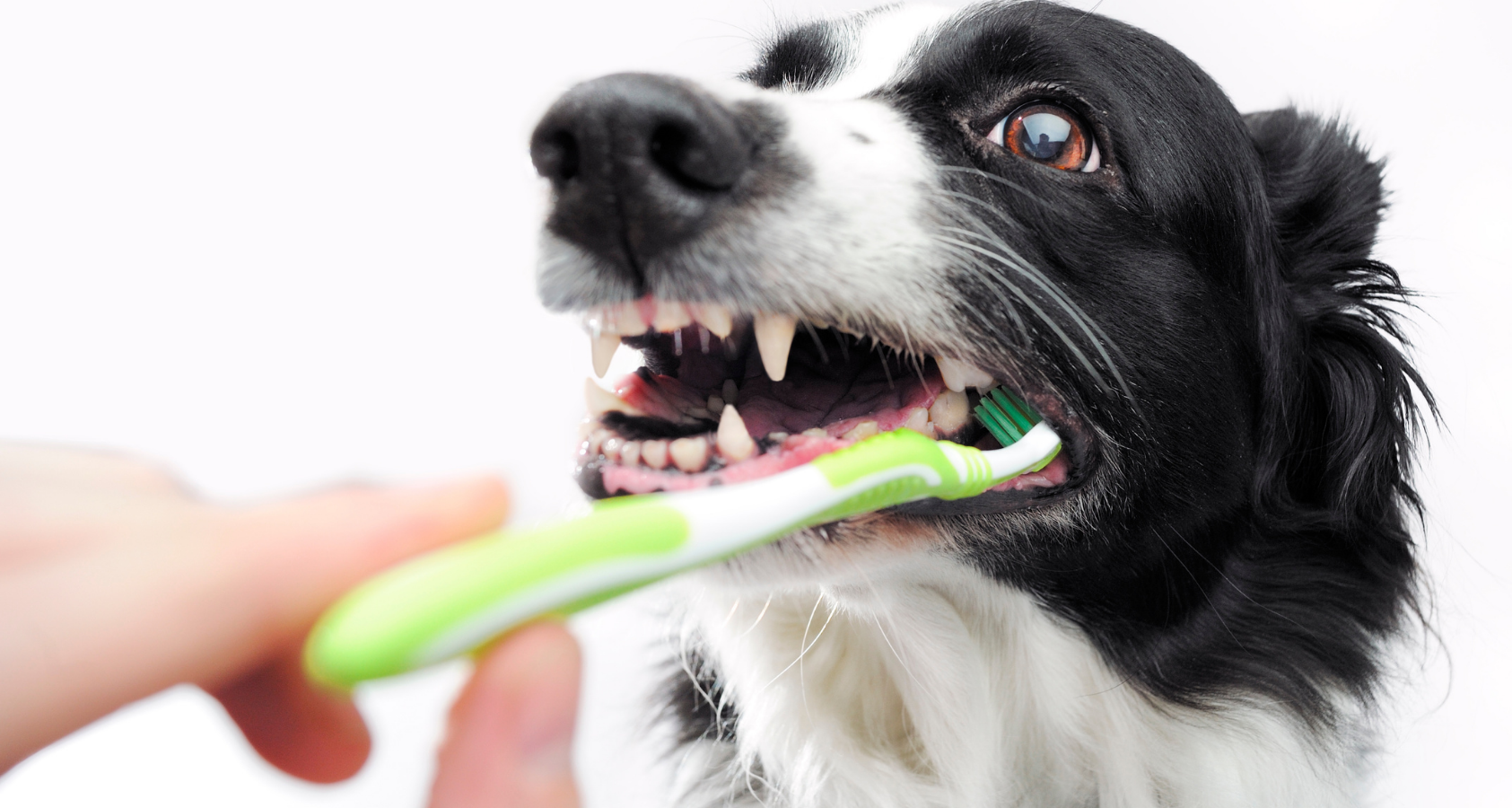 Don't get me wrong, dental disease is a pretty common issue in the canine group. However, you can help prevent any damage from becoming worse by taking the responsibility to be sure that your dog is seen routinely by his or her vet. With the routine and the proper daily care, you can be a big part of staving off any dental issues for as long as possible. Plus, with fresh breath, everyone in your house will be happier. Your dog is going to love his teeth being clean and you will love being able to help him/her stay healthy.
Dog Toothbrush Chew Toys
Dog Toothbrush Toys are also a great option for dogs when it comes to getting their teeth cleaned up. They are not only enjoyable for your dogs but they clean their teeth at the same time. With many shapes, we put some of our favorites below.
Dog Toothpaste Recipes
You will find that most homemade dog toothpaste will require almost the same identical ingredients. The ones listed below are even easier to make and require less time.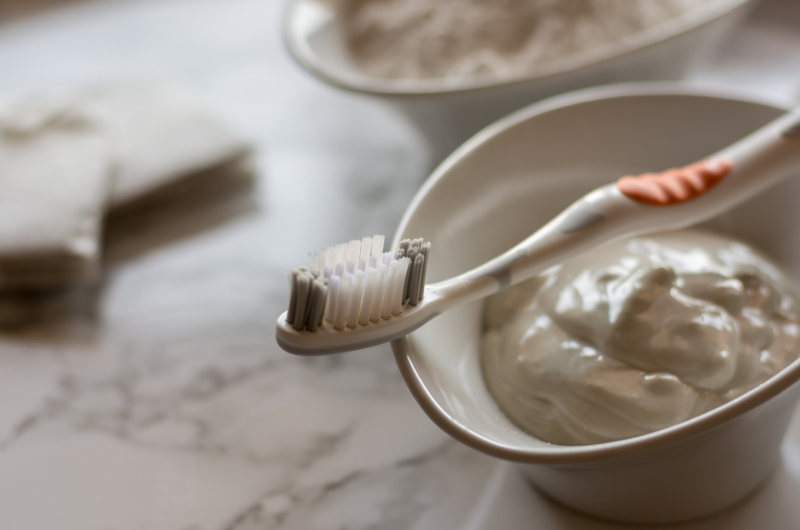 1- Easy DIY Dog Toothpaste
Easy DIY Dog Toothpaste
Course: All
Cuisine: Pet Toothpaste
Difficulty: 2
Ingredients
½ tsp cinnamon 

3 tbsp baking soda

¼ cup coconut oil 

½ tsp fine sea salt 

Optional: ½ tsp beef bouillon, chicken bouillon or Vegetable bouillon

Optional: 6 mint leaves or 6 sprigs parsley 
Directions
Combine all ingredients in a bowl. 

If using parsley or mint leaves, use a food processor to ensure they are chopped up really small. 

Stir well and set to the side to firm up for about an hour 

Done, Brush Your Dogs Teeth and give him a fresher breath!
Enjoy!
Natural Dog Toothpaste Recipe
Now there are many 'Natural' pastes for sale today that are meant as Natural kinds of toothpaste for dogs, but if you were to read the ingredients, they are not always, all-natural. So we suggest the following.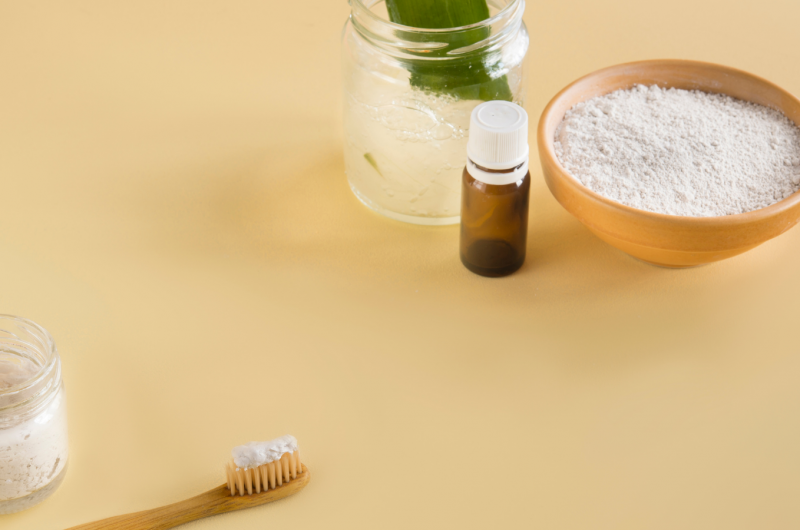 2- Baking Soda Natural Dog Toothpaste
Recipe by SueCuisine
Difficulty: 3 out of 10
Prep time: 3 minutes
To store this homemade dog toothpaste, you can scoop it into a small ice cube tray and cover, then place the tray in the freezer. You can keep it in a small jar that is airtight, and then store it in the refrigerator. This recipe is easily adjustable. The only part is to measure equal parts of Ghee, Avocado Oil or another healthy oil, combined with the same amount of baking soda. Stir it all together and store in the refrigerator.
Ingredients
½ cup baking soda 

½ cup Avocado Oil or Ghee 

Optional:

Parsley, finely chopped. Or Mint leaves finely chopped 
Directions
Place equal parts of baking soda and a healthy oil such as Ghee or Avocado Oil into a small bowl. 

Stir together to combine well 

Brush Your Dogs Teeth! Scoop out enough for each daily brushing. Refrigerate for up to a week or freeze in an ice cube tray. It will keep longer if there aren't any fresh herbs included.
 Enjoy!
Final Words
Well, we covered the best homemade dog toothpaste recipes out there, yes on the internet. Healthy ingredients for your dogs and with easy step-by-step directions. Dogs do need a lot of dental care, and these homemade toothpaste recipes for them will set you on the right path to dog teeth cleaning!

I'm a content writer and researcher. But bottom line, I loveee animals. I had my first animal which was a guinea pig at age 8. Later had a bunny, dog and a lot, a lot of fish. Writing about what I know about pets will allow me to share my knowledge and love for them with everyone else. Dealing with dogs my entire life, I know a lot.
---
PetFriendly Monthly Pet Care Box
Get 50% off + FREE Shipping on your first box!