Can Dogs Eat Bone and Chicken Bone Broth ? (Recipe)
Reading Time:
4
minutes
This post may contain affiliate links. If you click and buy we may make a commission, at no additional charge to you.
Chicken Broth For Dogs: Benefits and Risks
Are you one of the many who reach for a bowl of Chicken soup, Chicken broth when you need comfort food? Maybe when you feel a little under the weather? Have you noticed how your dog is right there waiting? That is because chicken is one of the main ingredients found in dog food
Well I have good news for you! Dogs can safely have Chicken broth. Now there are obviously some limits to the broth. We cannot, if we love our canine, just open a can that we have bought from the market. Most often, those types will have ingredients that can be harmful to your pooch.

To begin with, the amount of sodium that is in one can of broth is not recommended for humans or canine. Many varieties also contain garlic and onion. Your dog should not eat either of those.
Benefits of Chicken Broth for Your Dog
Yes, there are benefits to adding Chicken broth to your dog's food. We know that broth for dogs is good, but why? There is an amino acid found within called glycine. Glycine can help maintain your dog's liver and kidney functions. Glycine is also one of two amino acids that when combined, help to produce collagen. We already know that collagen is a necessity for good bone and joint health.
Dogs get tired of the same food on a daily basis. When you liven it up a little with Chicken broth, it is the incentive they need to finish the meal given to them. All you need to do is pour it over their food in their dish.
The added nutrients in Chicken broth will benefit the health of your dog. The added protein that is found in the chicken, as well as chicken broth for dogs gives an added burst to the amount of protein your dog will normally have with just the food.
Making Bone Broth
Below is a bone broth recipe for dogs. It is quite simple to make and your dog will love it! Besides immune system support, joint support, bone broth for dogs helps the liver to detox and provides digestive support. Now let's discuss how simple it is to make bone broth for dogs.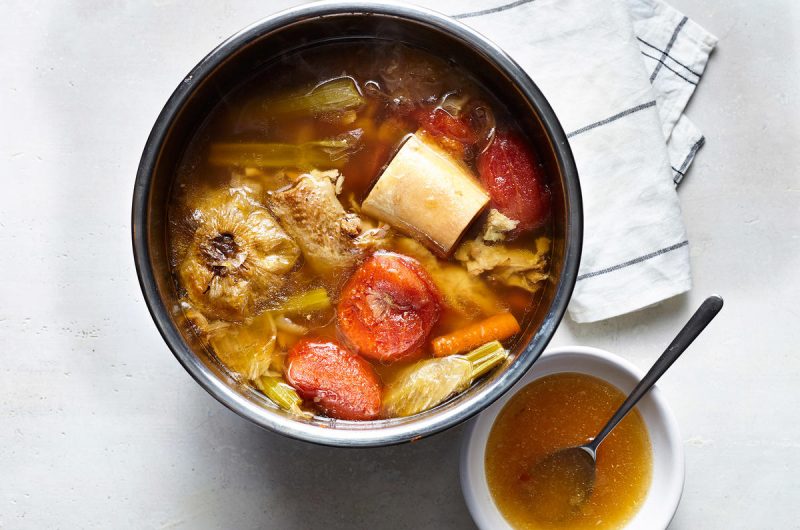 Bone Broth For Dogs
Bone Broth For Dogs
Course: All, Can Dogs Eat?
Cuisine: Bone Broth
Difficulty: 3
Ingredients
1 pound beef marrow bones 

1 pound chicken bones with marrow 

½ cup apple cider vinegar or the juice from 1 lemon 

Fresh, filtered water 

½ Fresh parsley 
Directions
Place the bones into the water 

Add in the Apple Cider Vinegar, or lemon juice, whichever you prefer.

Bring to a boil, skimming particulates that float up 

Leave the slow cooker alone for at least 24 hours 

Add in the parsley and allow to simmer ( Boil Gently ) for 5 more minutes. 

Cool completely before serving to your canine. 

Remove the bones before serving to your dog. and Enjoy!
Notes
This recipe is best if allowed to cook for 24 hours minimum. I will use my crockpot, a slow cooker. The longer that you cook the bones, the more nutrients there will be in the bone broth for dogs. Making bone broth is simple to do and when using the crockpot, it takes very little time.
Enjoy!
Making Chicken Bone Broth
Below is the Chicken bone broth recipe for dogs. Similar to the bone broth recipe this is even simpler to make. Your dog will love it! Besides immune system support, joint support, chicken bone broth for dogs.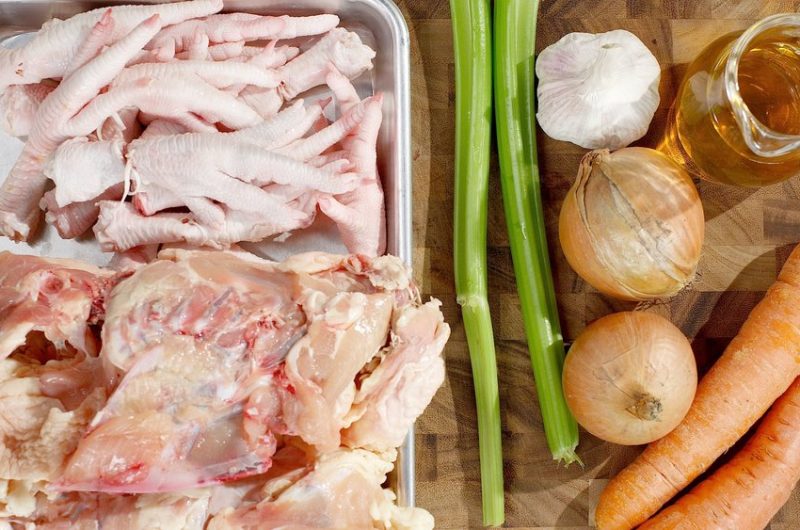 Chicken Bone Broth For Dogs
Recipe by SueCuisine
Difficulty: 3 Out Of 10
Prep time: 5 minutes
Cooking time: 24 hours
This is virtually the same as above, only using all chicken bones and bits of meat. Most recipes you find do include adding garlic and ginger to the recipe. I have seen reports stating that these are two ingredients that a dog should not have. Chicken broth is a great option if your fur baby suffers from any allergies.
Ingredients
2 to 3 pounds of chicken meat and bones 

Filtered water 

1 lemon, fully juiced 
Directions
Begin by placing the bones into a slow cooker. Bits and pieces of meat that remain on the bones are fine. This will become added nutrition. How to boil chicken for dogs is no different than making bone broth. 

Cover with the water and the lemon juice 

Bring to a full boil 

Lower heat, cover and simmer for 24 hours minimum.  

Remove the bones and allow the broth to cool completely 

Serve to your furry friend and enjoy the reactions! 
 Enjoy!
Final Words:
In summary, dogs are not that much different than humans. Bone broth, chicken broth, or Beef broth can be a great addition to their diet. The recommended serving size is based on the dog's size.
| Dog Size | Recommended Servings |
| --- | --- |
| Under 20 Pounds | No More Than One Ounce of Broth a Day |
| 20-40 Pounds | Given 2 Ounces Of Bone Broth Or Chicken Bone Broth a Day |
| 50-80 Pounds | No More Than 4 Ounces a Day |
| 80+ Pounds | 6 Ounces Of Broth a Day Is Recommended |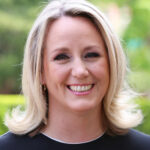 Mother, Certified animal Behaviorist who loves pets. Has two dogs and a cat. Trained veterinarian and loves to write about her experiences.
---
PetFriendly Monthly Pet Care Box
Get 50% off + FREE Shipping on your first box!