Can Dogs Eat Honey Bunches Of Oats? 
Last updated on March 21st, 2023 at 03:50 am
Reading Time:
4
minutes
This post may contain affiliate links. If you click and buy we may make a commission, at no additional charge to you.
Honey Bunches Of Oats for Dogs?
If you are looking for 'Can dogs eat honey bunches of oats?', you must be finding some options for dog meals or want to give him a treat. So, it is worth wondering.

Quick Answer
Dogs can eat honey bunches of oats, but excess feeding should be avoided because they are sweet and give your dog a considerable amount of sugar. A large amount of the cereal may cause problems and put your dog's life at risk leading to diabetes, weight gain, and other similar health conditions.
So, before feeding your pup Honey bunches of oats, make sure to get everything about it and know how healthy it is to eat this cereal for your lovely dog. Similarly, you will find all flavors of Honey bunches of oats at the end.
Can Dogs Eat Honey Bunches of Oats?
Honey bunches of oats are safe for dogs only when given small amounts. If your dog is fed up with a daily meal and wants to try something new, you can allow him to change the taste. Remember, they should not develop a habit of eating cereals. Sometimes dog owners spoil their dogs with cereal breakfast or their frequent use as snacks but remember, it is not suitable for your furry baby.
Here are possible reasons of can dogs eat honey bunches of oats or not:
Although there are no toxic ingredients in honey bunches of oats to make your dog sick, they still do not add value to your pet's diet. Honey bunches of oats cereals contain three kinds of whole grains: corn, whole wheat, and whole oats. These grains do nothing wrong to your dog unless he is not allergic to their use. Only 1% of dogs are sensitive to grains and need to avoid consuming them in their food, while 99% of dogs are considered safe. Now it depends on whether your dog falls in the category of allergic or safe dogs to eat honey bunches of oats.
Sweetness is not appropriate for your dog. The honey bunches of oats have honey, but it is not that bad for your dog. The problem arises from regular sugar that can lead to weight gain, diabetes, and dental cavities. Sugar sticks to the dogs' teeth, and bacteria grow, resulting in dental decay. Gradually, the shiny outer coating of teeth dissolves and causes dental cavities.
Honey Bunches of Oats – Ingredients
Corn
Wheat
Oats
Cane Sugar
Rice Flour
Maple Syrup
Honey
Salt
Blend of spices
Natural Flavor
Honey Bunches of Oats – Ingredients
Are Honey Bunches of Oats Healthy for Dogs?
If you think honey bunches of oats in a bowl can fulfill your dogs' nutritional needs, you are pretty wrong. Like other cereals, honey bunches of oats cut down fat content from your dog's diet plan and has zero cholesterol but provide unnecessary carbohydrates. These carbs are empty calories that do nothing good for your dog.
On the other hand, protein and fiber are the main things that dogs require from their food, but honey bunches of oats cannot satisfy this need. Your dog gets a few grams of these nutrients from 1 cup serving of the cereal, and this is never sufficient for his body. So, it is best to encourage nutritious and healthy meals for your dog and avoid cereals. If your dog insists on having Honey bunches of oats, make sure to give him a small portion of the cereal and make a dog food plan rich with a protein-rich diet. This will indeed help pups grow stronger and have less chance of long-term diseases.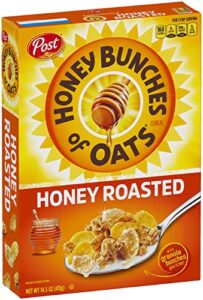 How Many Flavors of Honey Bunches of Oat are there?
Honey bunches of oats cereals have a range of flavors and varieties, each with different nutritional values. Some have natural flavors, while others include artificial flavoring, so you can check the label of a particular flavor and find what it contains.
These are some types of honey bunches of oats are there:
Almond
Honey Roasted
Cinnamon Bunches
Honey Roasted Granola
Whole Grain Honey Crunch
Strawberries
Vanilla
Granola Maple Pecan
Frosted
So, regardless of the type of favor, don't forget moderation is the key. You can offer this cereal to your dog just as a treat, and it should not substitute his nutritious meal plan.

I'm a content writer and researcher. But bottom line, I loveee animals. I had my first animal which was a guinea pig at age 8. Later had a bunny, dog and a lot, a lot of fish. Writing about what I know about pets will allow me to share my knowledge and love for them with everyone else. Dealing with dogs my entire life, I know a lot.
---
PetFriendly Monthly Pet Care Box
Get 50% off + FREE Shipping on your first box!