Are Airheads Safe for Dogs To Eat?
Last updated on March 20th, 2023 at 07:20 pm
Reading Time:
4
minutes
This post may contain affiliate links. If you click and buy we may make a commission, at no additional charge to you.
Can Dogs Eat Airheads?
People love Airheads. These chewy delicious sugary candies come in several different flavors, and they're also available in a variety of sizes, too. Airheads are probably not something that you would consider feeding to your dog on purpose, but what about by accident? Are Airheads safe for dogs to eat or not? These strange looking sweets are essentially sugar with a sweetened starch based goo that has an odd texture and a mild fruity flavor. But do you know whether or not they are safe for your dog to eat?

Quick Answer:
Technically Yes. If your dog eats an airhead nothing will happen to him. However, don't try feeding your dog these sweets on purpose.
Down below we'll discuss whether or not Airheads is safe for dogs to eat in more detail. Continue Reading To Find Out.
What Are Airheads?
Airheads are a type of chewy candy that come in a variety of flavors. Created in 1985 people absolutely adore these candies. They are typically sold in bags of various sizes, and they come in a variety of flavors, including:
Cherry, Lemon, Orange, Grape, Blue Raspberry,
Watermelon, Strawberry, and Green Apple.
Airheads are chewy and sticky, so if your dog does happen to get a hold of one, it's not very likely that he'll get it lodged in his throat.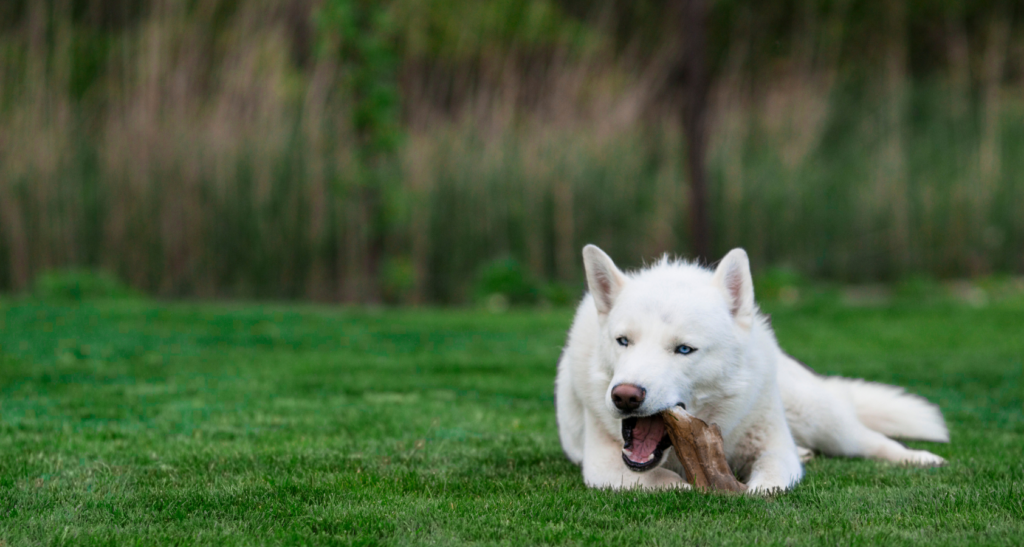 What's An Airhead Made Out Of?
Airheads candies are made with corn syrup, sugar, gelatin, and artificial flavors.
Corn syrup is made from corn that has been processed with acids or enzymes to extract the most amount of sugar from it. It is a highly refined product that is high in fructose and contains few vitamins and minerals.
Gelatin is made from animal bones, and it's used as a thickening agent in most candies and gummy candy. It may also have artificial flavors, artificial colors, artificial sweeteners, and preservatives.
Sugar, as you might have guessed Airheads contain a lot of sugar which is not good in any way for dogs.
Corn syrup and gelatin are two ingredients that are typically not very nutritious at all, and they don't provide any real benefits to dogs. In fact, corn syrup and gelatin are two ingredients that your dog should avoid as much as possible.
Are Airheads Safe for Dogs to Eat?
Airheads are not very nutritious and they pose a few potential health risks for dogs.
Technically speaking, they are safe. But that doesn't mean you should go out feeding your dog these candies every week.
They are not a healthy treat for dogs to eat as you might have guessed. Airheads contain high amounts of corn syrup as mentioned above, which is very high in fructose.
Fructose: is classed as a type 2 sugar because it is metabolized by your body in a completely different way than glucose. High amounts of fructose can cause liver damage and insulin resistance, which can lead to type 2 diabetes in dogs. Corn syrup is also very high in sugar, and sugar is extremely dehydrating for dogs.
Let's not forget these candies are made with high amounts of sugar. Sugar also feeds bad bacteria in dogs' stomachs, which can lead to all kinds of health problems.
Are All Airheads Bad For Dogs?
Well, by "All Airheads" we mean the different types. Such as airhead bites, airhead gummies, airhead gum, and airhead sours. There are a lot of shapes and styles when it comes to airheads.
They are all equally as bad as regular airheads. Try to avoid accidentally dropping any of these candies next to your dog as they will only cause him harm.
Are Airheads Poisonous To Dogs?
Even though dogs should not eat Airheads. They aren't necessarily poisonous to dogs, but they are extremely unhealthy for them. Airheads contain high amounts of sugar, corn syrup, and artificial ingredients which you probably read about above. All of these things are unhealthy for dogs to consume.
However, dogs will not die from eating Airheads. They may get sick from eating too many, but they will not die from it.
How Bad Are Airheads For Dogs?
Airheads are bad for dogs in several ways.
First of all, they're not nutritious at all, and they don't provide any benefits for dogs in any way.
Secondly, they contain high amounts of sugar, which can lead to sugar infection in dogs' stomachs.
Thirdly, they contain corn syrup, which is very high in sugars and can cause liver damage in dogs.
Lastly, they contain artificial ingredients that don't provide any real health benefits for dogs.
All in all, Airheads are very bad for dogs and should be avoided. If there aren't any benefits then what's the point in giving your dog a treat.
Bottom line
Airheads are not a healthy treat or even snack option for dogs, and they're certainly not something that you would want to feed your pet on a regular basis.
While they're not technically considered poisonous and are rather safe they are very low in nutritional value and they're high in sugars that can lead to tooth decay in dogs and other harmful issues.
So, to sum it up, Airheads are not safe for dogs to eat, and they're best avoided completely.

I'm a content writer and researcher. But bottom line, I loveee animals. I had my first animal which was a guinea pig at age 8. Later had a bunny, dog and a lot, a lot of fish. Writing about what I know about pets will allow me to share my knowledge and love for them with everyone else. Dealing with dogs my entire life, I know a lot.
---
PetFriendly Monthly Pet Care Box
Get 50% off + FREE Shipping on your first box!