Reading Time:
5
minutes
English Bulldog Breed Facts & Information
The solid body, small structure, and fierce-looking dog with droopy jowls is none other than the English Bulldog. These dogs were bred to fight bulls, but still, they are good with kids and animals. They are dependable, social, and loving. The white and brown color with the stout structure and short body is the most famous combination for English Bulldogs. You might have saw a famous video of a small and cute looking dog riding a skateboard, well if you did you guessed it right that's an English Bulldog enjoying life to the fullest.  
English Bulldog Appearance 
The small and stout structure with droopy skin all over the body is the hallmark of this breed. A large head with a flat muzzle will make them easy to distinguish from other breeds. The English Bulldogs have stocky legs and broad shoulders. Along with white and brown common color scheme, they do have different color patterns as well. 
English Bulldog Personality: Playful, Social, Loyal, and Brave
English Bulldogs are great with kids and other animals. They are social and love to play with strangers and other family members. But at the same time, if they see an intruder, their guarding instinct will take control, and they will show their other side. The brave English Bulldog is difficult to scare but still has unmatched loyalty, compassion, and sincerity towards parents and family.  
Their aggression and stubbornness make them a perfect watchdog. With the help of adequate training limited socializing, people are getting wonderful results. You don't need to worry about your kids when this dog is around. English Bulldogs love to play with children, cats, and other pets. They are cuddling monsters who enjoy playing with the owners.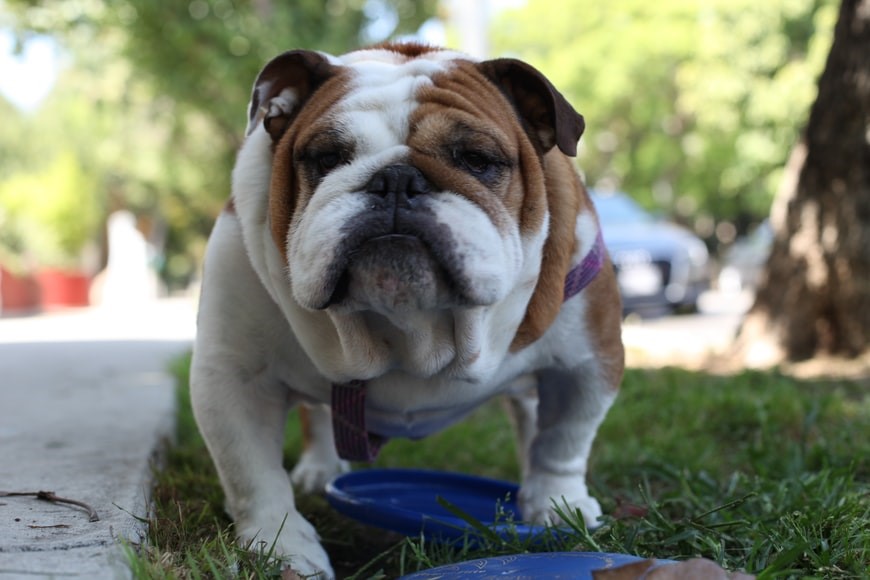 Ideal Environment for English Bulldog 
English Bulldogs are heat sensitive, and they are not big fans of exercise or outdoor activities. A home with ample space and some stairs is a perfect environment that you can give them. They need a family with kids or other pets to enjoy their life. If you live in a hot climate, air-conditioning is as necessary for them as it is for you to beat the heat. Their breathing pattern and structure of the body don't allow them to stay cool in hot weather.
The best approach here is to puppy-proof the house using grills or safety doors on stairs. Hiding the chemicals, liquids, and detergents as you do for toddlers will serve you best, in providing an ideal environment for an English Bulldog. 
Ideal Human for English Bulldog 
If you are a family person with children or pets, English Bulldogs will accept you as an ideal parent. They are social beings and love to enjoy the company of others. You would be enthralled to see how well these dogs get along with your friends. They will love you if you are a couch potato or don't take them on a daily walks or exercise. Occasional activities and social gatherings are still a must. 
English Bulldog Training 
This breed has the tendency to please; that's why training them it is quite easy. You should start training them as early as possible for better results. You should consider one important factor that English Bulldogs as they grow become aggressive towards food. Social training and chewing toys will help.
English Bulldog Grooming 
English Bulldogs require some grooming. You need to trim their nails every two weeks and brush their teeth two times a week. English bulldogs don't have a double or triple fur/hair coat. They don't shed a lot, and occasional bathing with focused drying is enough to last an ample time. You don't need a professional groomer to keep these dogs tidy.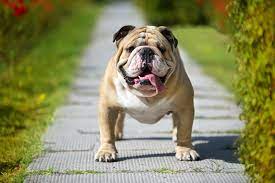 English Bulldog Health 
Overheating is the most crucial concern for an English Bulldog. You need to take care of them on hot days and avoid daytime strolls. Cherry eye, Elbow, and hip dysplasia are most common at an older age if they are not given the right nutrition and care.  
For general health, their body should be examined for wrinkles for skin or fungal infection.  
History of the English Bulldog 
As evident from the name, these bulldogs were bred on English soil for bullbaiting. They were brave and aggressive enough to pin down bulls for execution. This cruel sport is not in practice anymore; in 1865, it was outlawed. These passionate and aggressive fighting dogs have turned into eager coddlers who love to play and socialize with others.  
Welcoming this Breed into Your Family 
Welcoming English Bulldog's into your families are quite simple. Firstly socializing is important for them. Make sure when bringing them to be around them constantly so they don't feel lonely. These dogs love to spend time with pets and humans. Also providing them with basic rules like where to poop, pee, and sit or stay will help in their development. This low-maintenance and super cute dog will be a perfect addition to your family.  
English Bulldog Rescues 
You can buy an English Bulldog puppy online, from a local breeder or a pet store. But you can also go to a third option, dog rescue. These dogs come spayed and vaccinated. Most of the time, these dogs are already aware of the basic skills, but if you happen to find a naïve one, don't worry at all. With some love and compassion, you can teach different skills to an adult dog as well.  
English Bulldog Breeders 
The American Kennel Club and English Kennel Club are both great and registered reputed breeders for this breed. Go for a reputed breeder and get yourself a power pack of energy, love, and compassion. 
Key: Low Medium: High:
Breed Characteristics

Breed Group: Bull breed family

 

Size:  

Easy To Groom:

Good With Cats:

Activity Level:

Shedding:

Easy To Train:
Meow! Was this post helpful?
Let us know if you liked the post. That's the only way we can improve.